1.5V to 5V/12V DC/DC Converter with LT1073
http://electronics-diy.com/electronic_schematic.php?id=1029
● 준비물
승압 IC : LT1073
배터리 : 1.5V
인덕터 : 82uH
다이오드:SB3100
저항:40.2K, 820K, 100K
캐패시터:100u 20V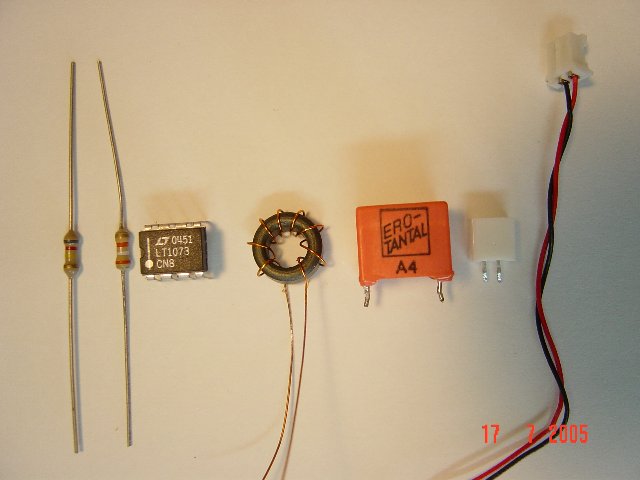 ● 회로도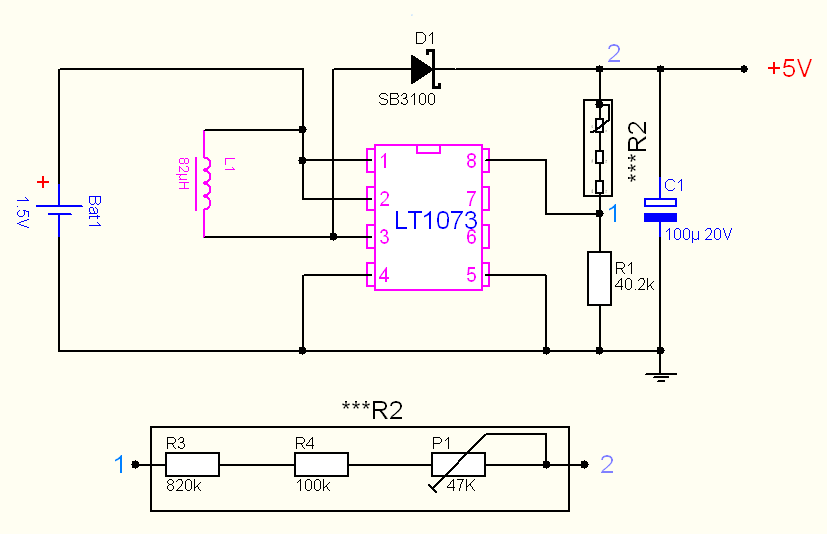 LT1073 - Micropower DC-DC Converter Adjustable and Fixed 5V, 12V
Features
No Design Required
Operates at Supply Voltages From 1.0V to 30V
Consumes Only 95µA Supply Current
Works in Step-Up or Step-Down Mode
Only Three External Off-the-Shelf Components Required
Low-Battery Detector Comparator On-Chip
User-Adjustable Current Limit
Internal 1A Power Switch
Fixed or Adjustable Output Voltage Versions
Space-Saving 8-Pin MiniDIP or SO8 Package
Typical Application
Description
The LT1073 is a versatile micropower DC/DC converter. The device requires only three external components to deliver a fixed output of 5V or 12V. The very low minimum supply voltage of 1V allows the use of the LT1073 in applications where the primary power source is a single cell. An on-chip auxiliary gain block can function as a low-battery detector or linear post-regulator.
Average current drain of the LT1073-5 used as shown in the Typical Application circuit below is just 135µA unloaded, making it ideal for applications where long battery life is important. The circuit shown can deliver 5V at 40mA from an input as low as 1.25V and 5V at 10mA from a 1V input.
The device can easily be configured as a step-up or step-down converter, although for most step-down applications or input sources greater than 3V, the LT1173 is recommended. Switch current limiting is user-adjustable by adding a single external resistor. Unique reverse-battery protection circuitry limits reverse current to safe, nondestructive levels at reverse supply voltages up to 1.6V.
Packaging
For complete and up to date package information and drawings, please refer to our
packaging page
N-8, SO-8
Order Info
Package Variations and Pricing
*
The USA list pricing shown is for BUDGETARY USE ONLY, shown in United States dollars (FOB USA per unit for the stated volume), and is subject to change. International prices may differ due to local duties, taxes, fees and exchange rates. For volume-specific price or delivery quotes, please contact your local Linear Technology
sales office or authorized distributor
.
Demo Boards
Linear Technology offers many demo boards free of charge to qualified customers.
Contact your local sales office or distributor
to inquire about a demo board. Certain demo boards are also available for sale via credit card on this website. Demo boards are for evaluation purposes only. It remains the customer's responsibility to verify proper and reliable operation in the actual end application.
Click here
to view our complete list of demo boards
Applications
Pagers
Cameras
Single-Cell to 5V Converters
Battery Backup Supplies
Laptop and Palmtop Computers
Cellular Telephones
Portable Instruments
4mA-20mA Loop Powered Instruments
Hand-Held Inventory Computers
Battery-Powered Alpha, Beta and Gamma Particle Detectors